PT. Mitsubishi Electric Indonesia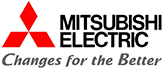 "Factory Energy Management System"
By integrating FA and LVS products, Mitsubishi Electric has been providing Energy Management solutions which contribute to the improvement of productivity and quality control with efficient use of energy for optimal factory operations.
Presenter:

Mr. Ahmad Reza
Industrial Automation Department Japanese Customer Support
PT Yokogawa Indonesia

1. Yokogawa Japan supplied FEMS to TOYOTA Factory, contributing to CEMS(Community Energy Management System) in an industrial complex as the first smart community project. 2. Yokogawa PT Indonesia supplied APS (Advanced Process control System) to a major oil in Indonesia and is under verification of effective and sustainable CO2 emission reduction by fossil fuel reduction.
Presenter:

Mr. Sudarto Ramli
technical director